Quick and easy holiday treats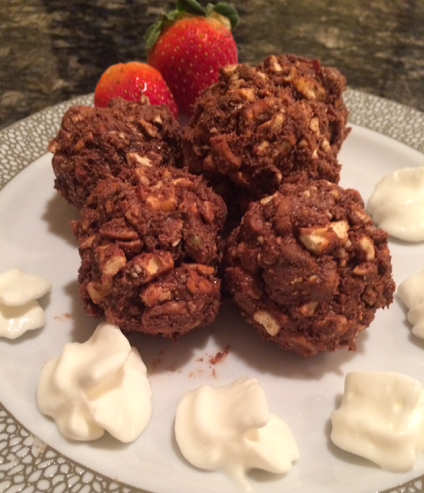 Cooking for the holidays can be a tricky and tiring process, but these three desserts are easy to make and tasty too.

Chocolate Raspberry Pudding:
Ingredients:
½ cup of fresh raspberries
3 cups of milk
¼ cup of cornstarch
1/8 teaspoon salt
1 teaspoon vanilla extract
2 ounces semisweet chocolate chips
Directions:
1. Put 2 cups of milk into a saucepan on media-high heat until boiling. Then remove from the stove, cover it and set aside for 11 minutes.
2. Then, in a large bowl, whisk together the sugar, cornstarch and salt.
3. Pour in remaining 1 cup milk and vanilla.
4. Stir until the mixture is blended. Pour warm milk into a bowl with the sugar mixture and stir well.
5. Pour back into saucepan and add the raspberries.
6. Stir constantly over medium heat until it has a thick consistency.
7. Remove from heat, add chocolate and stir until smooth.
8. Pour into glasses and serve.

Caramel Popcorn and Peanut Brittle
Ingredients:
1 teaspoon vegetable oil
¼ cup unpopped popcorn kernels
1 cup unsalted dry-roasted peanuts
1 ¼ cups sugar
2 tablespoons light corn syrup
2 tablespoons unsalted butter, sliced into pieces
1 teaspoon vanilla extract
Directions:
1. Line a baking sheet with wax paper or parchment. Pout warm oil in a large pot over high-heat.
2. Add the popcorn then shake the pot until it is cooked. Put the popcorn into a large bowl and add the peanuts and set aside.
3. In another large pot, mix ¼ cup of water, sugar and corn syrup. Bring to a boil over medium-high heat.
4. Then, after a few minutes, reduce heat to medium and cook until the mixture turns a light amber color for 3-6 minutes longer.
5. Remove the pot from the heat and stir in the butter and vanilla. Stir caramel into the popcorn and peanuts.
6. Put mixture into the baking sheet and let cool for about 10-15 minutes. Now break into pieces and serve.
Cherry, Nutella and Pretzel Truffles
Ingredients:
1 cup mini pretzel twists unsalted
½ cup Nutella
1/3 cup dried cherries
1/3 cup mini chocolate and peanut butter chips
2 teaspoon vanilla
1 teaspoon chia seeds
1 teaspoon raw shelled hemp seeds
Directions:
1. First, place all ingredients into a large bowl and mix.
2. Now add more pretzel or Nutella until the mixture has a sticky consistency.
3. Roll and press into one-inch balls.
4. Restore in a refrigerator in an air, tight container for up to a week. Enjoy!
These sweet delights can be made in up to 20 minutes.