New Disney Character Shines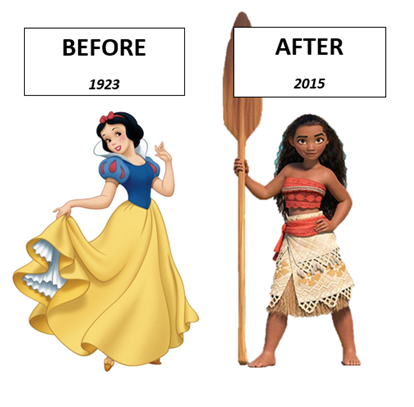 Meet Moana, Disney's newest princess.
She's the most recent addition to the Disney princess lineup; she's a courageous and inquisitive Polynesian teen intent on adventure. Considering it's been five years since the last Disney character was added to the official princess cast (Rapunzel from Tangled), and three years since Frozen took the world by storm, audiences are desperate for a fresh face and representation of a new region of the globe.
According to IMDb, Moana is a sea voyaging enthusiast, coming from a long family line of navigators. When her family needs her help, she sets off on an epic journey to find a fabled land accompanied by demi-gods, spirits and ferocious sidekicks.
Moana was introduced at the D23 Expo, a biennial exposition event that showcases behind-the-scenes footage, sneak peaks of upcoming films and concepts, celebrity appearances and previews of Disney park renovations. This year, directors, producers and composers revealed brand new animation, music and characters for the island princess movie.
According to an Oct. 2015 DisneyInsider article, the previews reveal a story that is "totally new and yet utterly timeless."
Though a new Disney princess is exciting enough as is, there's more to the anticipation than another version of a Frozen-craze. It's the fact that Moana is navigating far past the lands of image and personality that Disney has been used to.
Though Disney has been the foundation of most everyone's childhood, there's a longstanding opinion that the group of official princesses needs to include more diverse and independent characters.
"I was never really into the Disney princesses because I felt like 'If you've seen one, you've seen them all,'" senior McKenna Graham said. "They're all the same."
Over the years, the animation company has been taking baby steps, with hardworking and fierce Tiana in Princess and the Frog and Elsa in Frozen, the independent queen who didn't need a man to help her run a kingdom. However, nonwhite princesses are few and far between, with only four out of the 11 being "princesses of color." Princess and the Frog did more to further stereotypes than break free of them, and while Elsa set a great example, audiences are looking for more characters to follow suit.
That's where Moana comes in.
Rather than trying to mold foreign sounding words (like "Moana') into easy English syllables, Disney made the choice to give Moana the voice of a native Hawaiian who will be able to articulate native words and phrases as they should be spoken. Where past ethnic princesses like Jasmine have been voiced by Caucasian women, Moana's voice will be done by 14-year old Oahuan Auli'i Cravalho.
On top of that, the newest character appears to be smashing Disney's outdated body standards for royalty. With normal-looking shoulders, muscular calves and wrists rather than flesh-colored twigs, Moana looks ready to take on the seas instead of overseeing ballroom dances. Even her sidekick, demigod Maui voiced by Dwayne "The Rock" Johnson, is partaking in the trend. Where larger sized characters, like The Little Mermaid's Ursula, have tended to be villains, Maui has an encouraging and wise personality that goes along with his hulking and boulder-like appearance.
"I think it's really great that Disney's finally portraying people who have realistic proportions," Graham said. "They can relate to more people than just a select group this way."
Perhaps most amazing is the apparent lack of romantic interest for Moana in the film. So far, only a few of Disney's female leads, like Brave's Merida and Frozen's Elsa, have managed to get through their stories without falling in love. Though true love is a much-loved part of plot, it often takes away from characterization and personality. In this case, Moana will be maneuvering her way through her voyage with heart intact.
Basically, Moana combines all of what Disney has been lacking in its princesses since Snow White, with her racial and body diversity combined with her fearless attitude. The film is set for a release on Nov. 23, 2016.
Now we wait.