'Observer' favorites: pretzel recipes with a twist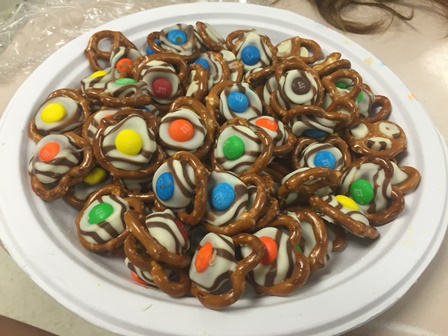 From the classic warm, soft cinnamon pretzels that melt in one's mouth to the crunchy and salty pretzel snacks, pretzels have been a staple in the American diet for years.
Pretzels have their origins in the 7th Century, when European monks rewarded children with folded strips of baked dough that resembled crossing the chest in prayer. Pretzels first arrived in America in the 17th Century when the Germans landed in Pennsylvania. Now Pennsylvania is the center of pretzel production. Pennsylvania governor Ed Rendell dubbed April 26 National Pretzel Day to recognize the pretzel's economic and historic significance to his state.
In honor of this national holiday, we baked three desserts using pretzels and shared them with the Observer staff to taste. Here are the recipes and taste-tasters' opinions of these desserts.
Hershey's Hugs Pretzel Bites
Served as an appetizer or a dessert, these easy-to-munch-on treats are painless to make and even easier to pop in your mouth. The salty pretzel combined with the sweet chocolate will have you constantly reaching for more.
"They are delicious and a perfect size," senior staff writer Danielle Kiefer said.
Ingredients:
Mini pretzel twists (as many as you would like to serve)
Hershey's Hugs Kisses (same number as pretzels)
M&Ms (same number as pretzels)
Directions:
1. Preheat oven to 200 degrees.
2. Cover the cookie tray with parchment paper.
3. Lay the pretzels out on the parchment-covered cookie sheet.
4. Place one Hershey's Hugs on each pretzel.
5. Put the cookie tray with the pretzels and Hugs in the oven for 3 minutes.
6. Immediately after removing the pretzels and Hugs from the oven, lay one M&M on top of each Hershey's Hugs. Push the M&M down with your finger until each Hugs resembles a flattened circle.
7. Cool in the freezer for at least two hours.
Salted Chocolate Chip Cookie Dough Pretzel Brownies
While the classic brownie can be unoriginal, the saltiness of the pretzels combined with the chewiness of the cookie dough adds a mouth-watering twist. With this recipe, created by Tori Cooper of gringalicious.com, one small bite will be enough to satisfy any sweet tooth.
"They had a nice texture between the pretzels and the soft brownie," senior staff writer Ana Faguy said. "I give it a 10 out of 10."
Ingredients (makes four dozen):
Brownie Layer:
½ cup (1 stick) butter; softened
½ cup oil
4 eggs
2 cups sugar
¾ cup cocoa powder
2 teaspoons vanilla
½ teaspoon salt
½ teaspoon baking soda
Cookie Dough Layer:
3 cups flour
¼ cup sugar
1 cup brown sugar
½ cup (1 stick) butter; softened
5/8 cup milk
1 ½ teaspoons vanilla
½ teaspoon salt
½ cup semi-sweet chocolate chips
Toppings:
2 cups snack pretzels
Sprinkle of sea salt
Directions:
1. Preheat oven to 350 degrees and grease a 13×9 inch baking dish or pan with oil.
2. Cream butter and oil with sugar in medium mixing bowl. Add eggs, vanilla, salt, and soda. Stir in flour and cocoa powder until smooth.
3. Pour batter into pan and layer pretzels on top of brownie batter. Bake for about 20-25 minutes, or until a toothpick comes out clean.
4. While brownies are baking, make cookie dough layer. Beat butter and sugars until creamed. Add milk, vanilla, and salt and beat until smooth. Add flour a cup at a time then stir in chocolate.
5. Remove brownies from oven and cool for about 10 minutes until the pan has cooled enough to handle. Crumble cookie dough over brownies and then use the palm of your hand to press it down gently on top of warm brownies. Top cookie dough with another layer of pretzels and allow bars to cool completely before cutting.
6. Cut into bars and place on wire rack to cool.
7. Sprinkle with sea salt and serve. Keep refrigerated if not served immediately.