Teen entrepreneur's clothing line taking off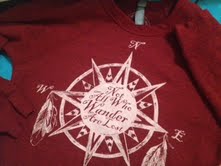 Independent clothing lines offer a breath of relief from the cheap, threadbare shirts found at mainstream outlets such as Forever 21. These lines, though marginally more expensive, often have stylish designs and reliable products.
One notable line is Jawbreaking, which can be bought at shopjawbreaking.com. It was also recently announced that the line would soon be available at Zumiez stores nationwide. Jawbreaking was started four years ago by then-high schooler Aly Silverio, and it is quickly rising to fame in the music world.
"I started Jawbreaking solely because I didn't want to get a real job," Silverio said. "I liked the idea of being my own boss, so I started the  jewelry company in 2008."
Celebrities such as Ed Sheeran, Pierre Bouvier (Simple Plan), Liam Payne and Zayne Malik (One Direction) have been seen wearing the brand's shirts. The brand even sponsors bands, such as Megan&Liz and Paradise Fears. The designs are"heavily inspired" by Silverio's "life and music."
What sets Jawbreaking apart? The answer to this question can be found in its unique designs. The "To the Moon and Back" line was recently released, offering prints that range from skulls and aliens to motivational quotes (such as "Shoot for the Stars") to "I Vote for Pizza," a patriotic shirt perfect for the recent election.  Other designs include the thoughtful print stating that "Not All Who Wander are Lost," or the standard Jawbreaking logo, a circle with a pyramid design inside.
The shirts come in a variety of styles such as crewnecks, crop tops, tank tops, bodycon dresses and off the shoulder T-shirts.  They range from about $30 to $50, including shipping costs. Though they are more expensive than an average shirt from other retailers, the quality of the product is much higher.
"The cost of labor and production isn't cheap, but I hate to make prices so high for customers," Silverio said. "But I think that for the quality and the dedication that goes into making each and every single shirt, it's reasonably priced."
It is inspiring how a successful clothing brand can be started by one teenage girl with an idea,  then progress to where it is today. Jawbreaking is already making waves with celebrities and will continue to do so as its line of products expands and becomes even more popular.
"Obviously, I'll continue to expand and keep doing bigger and better things," Silverio said. "We have a few things up our sleeves that I can't say yet, but we'll just keep surprising everyone."