Chevy brings back the American muscle car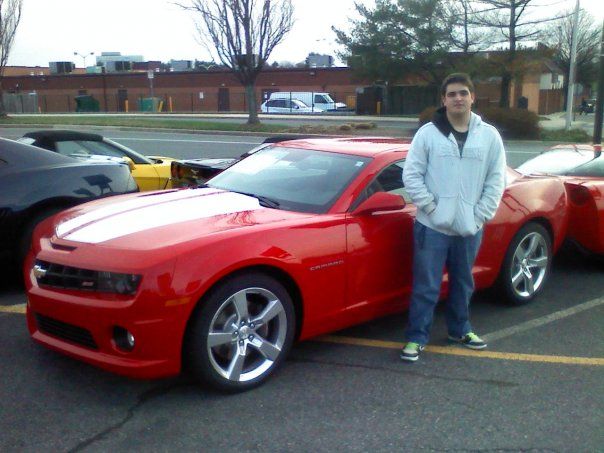 What do you get when you combine a teenage driver, his father, Great Seneca highway and the ridiculously fast 2010 Chevrolet Camaro? You get the ride of a lifetime while simultaneously almost inducing a heart attack in the driver's father.  In fact, in order to write a thorough review of this muscle car milestone, it was found academically irresponsible to not only see the Camaro first hand, but also to  drive its most powerful and heavily optioned variant, the 2SS.  At least that was the argument this writer presented to his father.
Throughout the 1960s, America was at its wildest, as sex, drugs and rock and roll were the unofficial anthem of youth.  In order to appeal to this new breed of American, many car companies began the development and sale of high performance muscle cars. Muscle cars, although they varied in appearance and power, were all required to have a potent power plant (usually a big or small block V8), aggressive styling and the ability to smoke their rear tires in a moment's notice. Handling was not important.
Fast forward 49 years and muscle cars, although still somewhat popular, have lost their appeal to the American youth as European and Asian imports have flooded the automotive scene.  However, after its long awaited arrival, the 2010 Chevrolet Camaro may be enough to win back the hearts of America's youth.
Seen first in Michael Bay's film Transformers, the 2010 Camaro hit the automotive market with features never before seen in an American muscle car. Fuel efficiency, powerful V6 and V8 engines, radical styling and an impressive suspension setup all enhance the appeal of Chevrolet's rendition of a classic muscle car.
Boasting the blistering 6.2L V8 LS3, the 2010 Camaro 2SS pushes roughly 426 horsepower and 420 lb/ft of torque. All this combined produces an impressive zero to 60 in five seconds flat and a governed top speed of 155 miles per hour. Furthermore, as confirmed at a traffic light, the Camaro's LS3 was fully capable of smoking a Toyota Prius –at least until this writer's father started driving at which point the average speed of the test dropped from around 95 to 40 mph.
However, The Camaro isn't your typical American gas guzzler as it gets roughly 16 mpg city and 24 mpg highway due to its ability to turn off four of its eight cylinders in slow cruises around town. Do not let this fuel efficiency feature fool you as in times of need, specifically the race mentioned above, the Camaro's eight cylinders will activate and the engine will roar to life. Even though 16 mpg city and 24 mpg highway is quite low compared to other cars globally, it is extremely impressive for an American performance car, especially one boasting a V8 engine.
Complementing its high performance engine, the Camaro's suspension system is also top notch. Historically, muscle cars have been known to handle terribly, as taking a turn too fast could result in a subsequent fishtail and skidding of the vehicle. However, the Camaro's suspension takes the reputation of muscle car handling and throws it out the window.  Able to take turns and curves almost as smoothly as a BMW, the Camaro proves to be a comfortable and predictable ride. If the driver is interested in a little more of a wilder ride however, the Camaro has a convenient button located on the console to choose between four different traction control settings allowing the driver to drift, slide and peel-out without interference from the car's computer.
The 2010 Camaro features a radical exterior as it takes the styling of the 1960s and manipulates it into something much more modern by incorporating halo headlights, a ground effects setup to make the car look lower and massive 20 inch aluminum wheels.  With the only exciting features being the square gauges and convenient USB and iPod jack in the console, the Camaro's interior isn't all that impressive as compared to its exterior.  In fact, the interior seems somewhat bland and tasteless due to its lack of uniqueness found in other cars such as the availability of touch screen navigation.
The 2010 Camaro definitely serves as a strong competitor in America's automotive market, specifically with its appeal to young people. With options tailored to meet the needs of any driver, the 2010 Camaro is a great option for those interested in purchasing a new car with exciting power plant options and styling. However, it is expected that aftermarket auto parts industries, especially those specializing in custom sound and radio systems, will do significantly better as the Camaro's interior could use improvement. Still, there is no doubt that the 2010 Camaro will turn heads.