By Pablo Roa, Staff Writer

March 20, 2014
The foul odor that has plagued the World Language hallway has struck again, and according to students and staff, it is even more prominent than in years past. According to a 2010 Observer article, a 2009 inspection performed by Building Dynamics, LLC, a private consultant hired by the county, determined...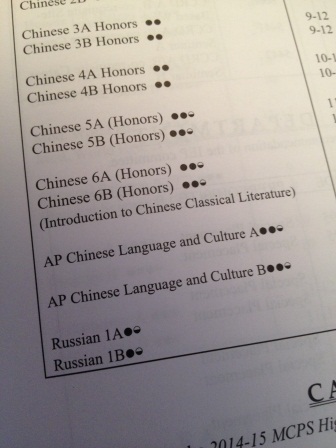 By Ana Faguy, Production Editor

February 11, 2014
This week, counselors came to students' classes to talk about registering for next year's courses. When students opened the class description booklets, they discovered a big surprise. CHS will be offering Russian 1 for the 2014-15 school year. The class will be open to students of all grade levels...
Tuesday, October 1

Varsity Girls Volleyball

Winston Churchill High School 3 - RM 0

Friday, September 27

Varisty Boys Football

Winston Churchill High School 0 - QO 64

Wednesday, September 25

Varsity Girls Soccer

Winston Churchill High School 11 - Einstein High School 2

Monday, September 23

Varsity Girls Field Hockey

Winston Churchill High School 6 - RM 0

Thursday, September 19

Varsity Girls Volleyball

Winston Churchill High School 3 - BCC 0

Monday, September 16

Varsity Girls Soccer

Winston Churchill High School 4 - BHS 1

Tuesday, September 10

Varsity Boys Soccer

Winston Churchill High School 4 - GC 2

Friday, September 6

Varsity Boys Soccer

Winston Churchill High School 1 - UHS 2

Wednesday, May 15

Varsity Lacrosse

Winston Churchill High School 6 - Richard Montgomery High School 5

Monday, May 13

Varsity Lacrosse

Winston Churchill High School 16 - BCC 3
The Churchill Observer- May 2018