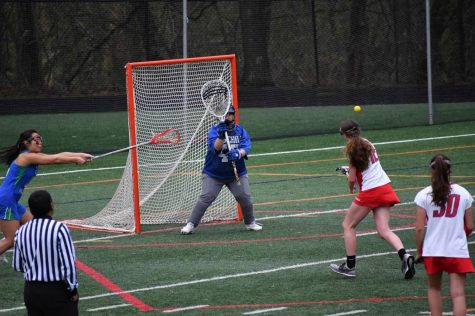 By Hannah Zozobrado, Arts Editor

June 6, 2019
Most WCHS students grow up playing with their siblings, from biking together to playing random sports, but sometimes those sports can become an even bigger part of  their future. For junior Cammy Buckingham, she started off as a goalie for the sake of her older family members to practice their of...
By Luke Frentsos Sports Photo Editor

April 13, 2011
The Equestrian's varsity team won seventh place, and its JV team won fifth place at the interschool horse show series Feb. 20. Senior Lauren Cortellessa, junior Genny Johnson and sophomores Emma Johnson, Catherine Conway, and Katie Lunceford all qualified for the finals this year in their division....
Wednesday, May 15

Varsity Lacrosse

Winston Churchill High School 6 - Richard Montgomery High School 5

Monday, May 13

Varsity Lacrosse

Winston Churchill High School 16 - BCC 3

Friday, May 10

Varsity Lacrosse

Winston Churchill High School 13 - Walter Johnson High School 1

Monday, May 6

Varsity Softball

Winston Churchill High School 11 - Clarksburg High School 14

Friday, May 3

Varsity Baseball

Winston Churchill High School 11 - Magruder High School 2

Friday, May 3

Varsity Softball

Winston Churchill High School 24 - Seneca Valley High School 9

Tuesday, April 30

Varsity Lacrosse

Winston Churchill High School 8 - Damascus High School 15

Saturday, April 27

Varsity Lacrosse

Winston Churchill High School 4 - Richard Montgomery High School 6

Tuesday, April 23

Varsity Lacrosse

Winston Churchill High School 12 - Quince Orchard High School 2

Wednesday, April 17

Varsity Baseball

Winston Churchill High School 13 - Gaithersburg High School 3
The Churchill Observer- May 2018