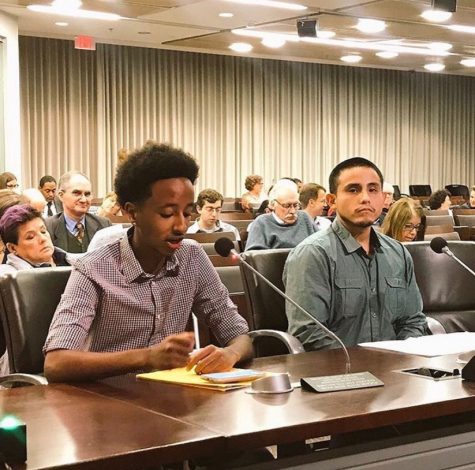 By Ohio Meshanko, Promotions Manager

February 8, 2019

Filed under Local, News, School, Top Stories
The Montgomery County Board of Education held a hearing Jan. 7 to discuss potentially changing the boundaries for each of its 206 schools. The move was proposed as a solution to the disparity in socioeconomic status between various schools and clusters. However, some are worried that it will have several...
June 9, 2009

Filed under Opinions
D.C.'s public school chancellor Michelle Rhee is trying very hard to improve the District's schools, and though her efforts have been somewhat controversial, the mandatory uniform policy for the 2009-2010 school year absolutely crosses a line. Released last month, next year's policy enables...
Wednesday, May 15

Varsity Lacrosse

Winston Churchill High School 6 - Richard Montgomery High School 5

Monday, May 13

Varsity Lacrosse

Winston Churchill High School 16 - BCC 3

Friday, May 10

Varsity Lacrosse

Winston Churchill High School 13 - Walter Johnson High School 1

Monday, May 6

Varsity Softball

Winston Churchill High School 11 - Clarksburg High School 14

Friday, May 3

Varsity Baseball

Winston Churchill High School 11 - Magruder High School 2

Friday, May 3

Varsity Softball

Winston Churchill High School 24 - Seneca Valley High School 9

Tuesday, April 30

Varsity Lacrosse

Winston Churchill High School 8 - Damascus High School 15

Saturday, April 27

Varsity Lacrosse

Winston Churchill High School 4 - Richard Montgomery High School 6

Tuesday, April 23

Varsity Lacrosse

Winston Churchill High School 12 - Quince Orchard High School 2

Wednesday, April 17

Varsity Baseball

Winston Churchill High School 13 - Gaithersburg High School 3
The Churchill Observer- May 2018