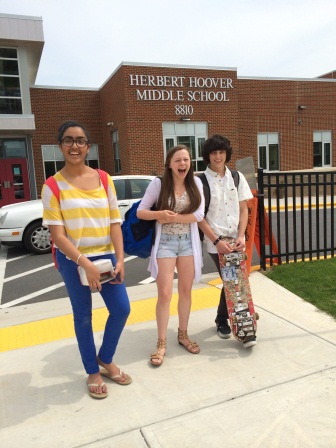 By Julia Heimlich, Features Editor

May 29, 2014
As eighth graders approach their final days as a middle school student, they are faced with one of their biggest challenges yet—transitioning to a bigger, and at times, scarier, school. When the start of the school year rolls around this Fall, these future high schoolers will decide for themselves...
By Online Opinions Editor, Emilie Plesset

October 26, 2011
 When in middle school, students are strongly encouraged to take certain classes, like world languages, that appear on a high school transcript. Some middle school students, however, have yet to recognize the importance of academics. Many are still learning vital studying techniques and have not yet...
Wednesday, May 15

Varsity Lacrosse

Winston Churchill High School 6 - Richard Montgomery High School 5

Monday, May 13

Varsity Lacrosse

Winston Churchill High School 16 - BCC 3

Friday, May 10

Varsity Lacrosse

Winston Churchill High School 13 - Walter Johnson High School 1

Monday, May 6

Varsity Softball

Winston Churchill High School 11 - Clarksburg High School 14

Friday, May 3

Varsity Baseball

Winston Churchill High School 11 - Magruder High School 2

Friday, May 3

Varsity Softball

Winston Churchill High School 24 - Seneca Valley High School 9

Tuesday, April 30

Varsity Lacrosse

Winston Churchill High School 8 - Damascus High School 15

Saturday, April 27

Varsity Lacrosse

Winston Churchill High School 4 - Richard Montgomery High School 6

Tuesday, April 23

Varsity Lacrosse

Winston Churchill High School 12 - Quince Orchard High School 2

Wednesday, April 17

Varsity Baseball

Winston Churchill High School 13 - Gaithersburg High School 3
The Churchill Observer- May 2018