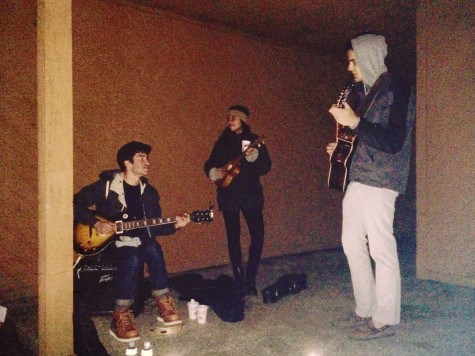 By Julia Heimlich, News Editor

December 11, 2014
Had you peeked into Cabin John Park during the early evening of Dec. 10, you would have found a bundled-up group of students laughing, listening to live acoustic and sipping hot cocoa. To raise money for the publication, CHS's own literary magazine transformed the average "Cal Tor/Baskin Robbins...
By Eugenia Cardinale, Production Editor

June 2, 2014
The CHS Literary Magazine will be releasted May 21. The magazine consists of CHS students' artwork and literature and is completely student produced. The magazine will sell in color for $25 and in black and white for $10. An announcement will be made on the Daily Dose with information on how to buy...
Friday, January 3

Boys Basketball

Winston Churchill High School 72 - Einstein 35

Wednesday, December 18

Girls Basketball

Winston Churchill High School 67 - Kennedy 14

Friday, December 13

Boys Basketball

Winston Churchill High School 71 - Springbrook 61

Friday, December 13

Girls Basketball

Winston Churchill High School 74 - Springbrook 12

Tuesday, December 10

Girls Basketball

Winston Churchill High School 59 - Urbana 26

Tuesday, December 10

Boys Basketball

Winston Churchill High School 69 - Urbana 60

Friday, December 6

Boys Basketball

Winston Churchill High School 61 - Paint Branch 63

Friday, December 6

Girls Basketball

Winston Churchill High School 66 - Paint Branch 64

Wednesday, November 13

Girls Varsity Volleyball

Winston Churchill High School 1 - Arundel 3

Saturday, November 2

Girls Varsity Soccer

Winston Churchill High School 2 - Quince Orchard 1

Friday, October 25

Varsity Girls Volleyballl

Winston Churchill High School 3 - BHS 1

Friday, October 25

Varsity Boys Football

Winston Churchill High School 8 - BCC 14
The Churchill Observer- May 2018