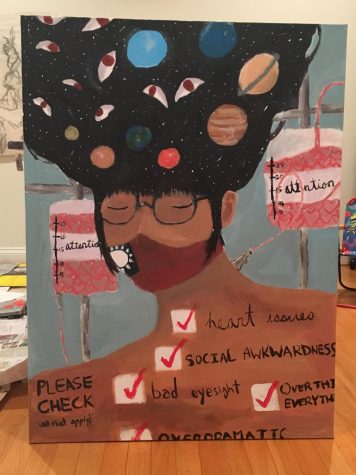 By Benjamin Pham, Advertising/Subscriptions Manager

March 11, 2019
Everyone has a comfort zone, an environment where one has a sense of familiarity, safety, and security, and there is something to be said for stepping out of it. When students step out of of their comfort zone, they accomplish things that they aren't necessarily comfortable doing, with higher levels of st...
By Bryan Fletcher, Production Manager

March 6, 2019
Learning and mastering even a single medium of art is already impressive on its own, but finding a balance between multiple forms might as well be an otherworldly ability. Yet this is just the everyday reality for illustrator, senior and animator Julia Maa. Maa has had a great interest in illustration...
Friday, January 24

Boys Basketball

Winston Churchill High School 55 - Whitman 56

Friday, January 24

Girls Basketball

Winston Churchill High School 53 - Whitman 33

Wednesday, January 15

Boys Basketball

Winston Churchill High School 62 - Whitman 58

Wednesday, January 15

Girls Basketball

Winston Churchill High School 72 - Whitman 29

Friday, January 10

Boys Basketball

Winston Churchill High School 64 - Wootton 50

Tuesday, January 7

Girls Basketball

Winston Churchill High School 65 - WJ 30

Friday, January 3

Boys Basketball

Winston Churchill High School 72 - Einstein 35

Wednesday, December 18

Girls Basketball

Winston Churchill High School 67 - Kennedy 14

Friday, December 13

Boys Basketball

Winston Churchill High School 61 - Springbrook 71

Friday, December 13

Girls Basketball

Winston Churchill High School 74 - Springbrook 12

Tuesday, December 10

Girls Basketball

Winston Churchill High School 59 - Urbana 26

Tuesday, December 10

Boys Basketball

Winston Churchill High School 69 - Urbana 60
The Churchill Observer- May 2018