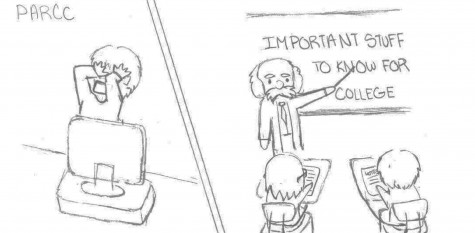 By Fiona Asbury, Opinions Editor

April 21, 2014
The HSA, the MSA, the SAT, the ACT and now the PARCC. The lives of students at CHS are cluttered with the acronyms of standardized testing. With the alphabet soup comes the inevitable doubt: How much is too much? Test after test, students' patience is wearing thin. In a generation obsessed with gat...
By Elizabeth Chen, Circulation Manager Jessica Hirsch, Online Observations Editor

March 21, 2011
Maryland Governor Martin O'Malley unveiled his new plan for the 2012 fiscal operating budget Jan. 21, proposing cuts of $1.9 million from the State Department of Education funding. If approved, this reduced budget would eliminate the American Government HSA as a Maryland high school graduation requirement. Although...
Winston Churchill High School

63

Mar 4 / Girls Basketball

Winston Churchill High School

72

Mar 2 / Girls Basketball

Winston Churchill High School

60

Feb 21 / Girls Basketball

Winston Churchill High School

65

Feb 21 / Boys Basketball

Winston Churchill High School

73

Feb 7 / Boys Basketball

Winston Churchill High School

55

Jan 24 / Boys Basketball

Winston Churchill High School

53

Jan 24 / Girls Basketball

Winston Churchill High School

62

Jan 15 / Boys Basketball

Winston Churchill High School

72

Jan 15 / Girls Basketball

Winston Churchill High School

64

Jan 10 / Boys Basketball
The Churchill Observer- May 2018