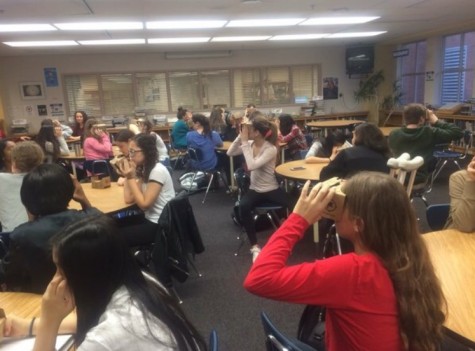 By Sofia Williamson, Production Editor

January 5, 2016

Filed under Top Stories
CHS students are learning about ancient Chinese civilizations in their Honors Ancient History class. They are learning about the construction of The Great Wall of China, and the students wish that they could see the real thing in person. Now with Google Expeditions, students can see the...

February 21, 2012

Filed under Observer Opinion, Opinions
The CHS administration and social studies department are considering eliminating on-level U.S. History for the 2012-2013 school year. This pending decision is largely justified as a method of accomplishing goals established by the School Improvement Plan (SIP), a yearly report developed by administrators...
Wednesday, May 15

Varsity Lacrosse

Winston Churchill High School 6 - Richard Montgomery High School 5

Monday, May 13

Varsity Lacrosse

Winston Churchill High School 16 - BCC 3

Friday, May 10

Varsity Lacrosse

Winston Churchill High School 13 - Walter Johnson High School 1

Monday, May 6

Varsity Softball

Winston Churchill High School 11 - Clarksburg High School 14

Friday, May 3

Varsity Baseball

Winston Churchill High School 11 - Magruder High School 2

Friday, May 3

Varsity Softball

Winston Churchill High School 24 - Seneca Valley High School 9

Tuesday, April 30

Varsity Lacrosse

Winston Churchill High School 8 - Damascus High School 15

Saturday, April 27

Varsity Lacrosse

Winston Churchill High School 4 - Richard Montgomery High School 6

Tuesday, April 23

Varsity Lacrosse

Winston Churchill High School 12 - Quince Orchard High School 2

Wednesday, April 17

Varsity Baseball

Winston Churchill High School 13 - Gaithersburg High School 3
The Churchill Observer- May 2018