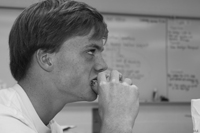 By Joe Nolan, Opinions Editor

October 1, 2012
When the "news" came out that Chick-fil-A supported the traditional definition of marriage, dissenting CHS students biting into the restaurant chain's iconic chicken sandwich found themselves in a dilemma difficult to digest: should they continue to patroniza a business that holds atypical views? ...
By By Jane Zankman, News Production Editor

March 26, 2012
Governor Martin O'Malley signed a bill into law March 2 allowing same-sex couples to marry in Maryland. The law will go into effect in 2013, but is likely to be voted on as a referendum on the Maryland 2012 ballot. The bill passed in the House of Delegates with a 72-67 win and in the Senate with...
Tags: bill, gay, gay marraige, Jane, Jane Zankman, legislature, marriage, maryland, maryland bill, same-sex, same-sex couples, Zankman
Winston Churchill High School

63

Mar 4 / Girls Basketball

Winston Churchill High School

72

Mar 2 / Girls Basketball

Winston Churchill High School

60

Feb 21 / Girls Basketball

Winston Churchill High School

65

Feb 21 / Boys Basketball

Winston Churchill High School

73

Feb 7 / Boys Basketball

Winston Churchill High School

55

Jan 24 / Boys Basketball

Winston Churchill High School

53

Jan 24 / Girls Basketball

Winston Churchill High School

62

Jan 15 / Boys Basketball

Winston Churchill High School

72

Jan 15 / Girls Basketball

Winston Churchill High School

64

Jan 10 / Boys Basketball
The Churchill Observer- May 2018