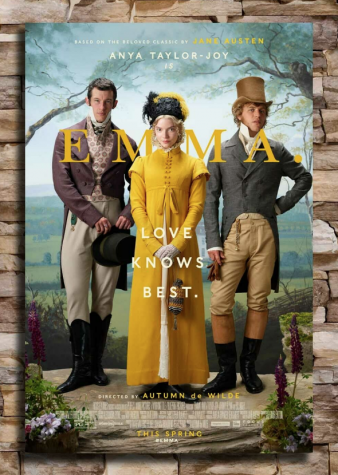 By Sacha Feldberg, Arts Editor

March 11, 2020
There is no single term that can quite define Emma from Jane Austen's beloved rom-com "Emma" but wide-eyed, analytical, single-person-turned-lover, neat-freak and lover-of-all-things-beautiful are fitting descriptors. From the get-go, Emma (Anya Taylor-Joy) shows that she is a woman of order,...
By Emma Chen, Assistant Observations Editor

January 4, 2019
Not every teacher at WCHS can say that they have taught all high school grade levels, but as AP Computer Science Principles (AP CSP) becomes increasingly popular, AP CSP teacher Rebecca Smith has become one of those teachers. A member of the Computer Science and Technology department at WCHS, Smith...
Winston Churchill High School

63

Mar 4 / Girls Basketball

Winston Churchill High School

72

Mar 2 / Girls Basketball

Winston Churchill High School

60

Feb 21 / Girls Basketball

Winston Churchill High School

65

Feb 21 / Boys Basketball

Winston Churchill High School

73

Feb 7 / Boys Basketball

Winston Churchill High School

55

Jan 24 / Boys Basketball

Winston Churchill High School

53

Jan 24 / Girls Basketball

Winston Churchill High School

62

Jan 15 / Boys Basketball

Winston Churchill High School

72

Jan 15 / Girls Basketball

Winston Churchill High School

64

Jan 10 / Boys Basketball
The Churchill Observer- May 2018