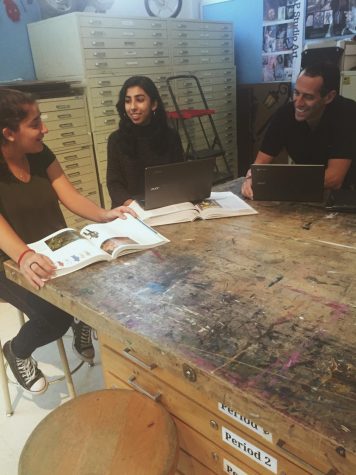 By Sapna David, Assistant Arts Editor

October 19, 2018

Filed under Arts
Juniors Nura Dhar and Leah Stein are working with CHS art teacher Paul Dermont to create a new arts course at CHS next year. After taking AP Art History last year, Dhar and Stein felt that they did not have enough time to fully discuss the artifacts and paintings they discovered. They wanted a more ...
By Allison Srour, Features Editor

September 28, 2011

Filed under Features
Posters decorate halls and classrooms, light blue bands cover people's wrists and advertisements play on the Daily Dose. Stemming from Gandhi's famous quote, "Be the change you wish to see in the world," Be the Change (BTC) is a new campaign created by leaders at CHS, including Principal Joan...
Friday, November 9

Varsity Football

Winston Churchill High School 20 - Northwest High School 56

Friday, November 9

Varsity Football

Winston Churchill High School 20 - Northwest 56

Monday, November 5

Varsity Field Hockey

Winston Churchill High School 0 - Dulaney 2

Monday, November 5

Girls Varsity Volleyball

Winston Churchill High School 0 - B-CC 3

Friday, November 2

Varsity Soccer

Winston Churchill High School 0 - Whitman 3

Thursday, November 1

Girls Varsity Soccer

Winston Churchill High School 0 - Whitman 2

Friday, October 19

Boys Varsity Soccer

Winston Churchill High School 3 - Kennedy 1

Friday, October 19

Varsity Football

Winston Churchill High School 42 - Seneca Valley 6

Thursday, October 18

Girls Varsity Field Hockey

Winston Churchill High School 1 - Blake 3

Wednesday, October 17

Girls Varsity Soccer

Winston Churchill High School 6 - Blair 0
The Churchill Observer- May 2018