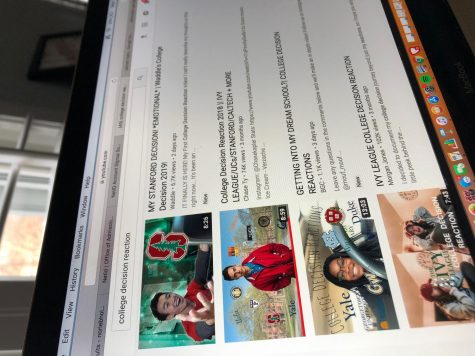 By Nora Holland, Opinions Editor

December 20, 2018
As the student opens his application portal and types in his password, a swarm of his friends watch intently with looks of worry written all over their faces. After a seemingly infinite stretch of silence, screams erupt from everyone as the room turns into a mosh pit. He got in. This is a description...
By Rebecca Jackson, News Editor

February 8, 2018
During one fateful day in March dubbed "Ivy Day," CHS seniors anxiously chattered in the hallways about who got accepted to which colleges. On that day, eight of the most selective schools in the country sent out their acceptance and rejection letters. Who applied? Well, almost everyone. &nbsp...
Winston Churchill High School

63

Mar 4 / Girls Basketball

Winston Churchill High School

72

Mar 2 / Girls Basketball

Winston Churchill High School

60

Feb 21 / Girls Basketball

Winston Churchill High School

65

Feb 21 / Boys Basketball

Winston Churchill High School

73

Feb 7 / Boys Basketball

Winston Churchill High School

55

Jan 24 / Boys Basketball

Winston Churchill High School

53

Jan 24 / Girls Basketball

Winston Churchill High School

62

Jan 15 / Boys Basketball

Winston Churchill High School

72

Jan 15 / Girls Basketball

Winston Churchill High School

64

Jan 10 / Boys Basketball
The Churchill Observer- May 2018