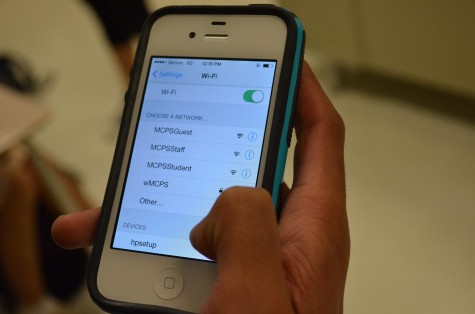 By Arjun Swaminathan, Online Arts Editor

September 23, 2014
Before the installation of Wi-Fi at CHS, biology teacher Wendy Saoutis had to take her students to the computer lab whenever they needed to do research.  Now, Saoutis just has to tell her students to take out their cellphones. Students and faculty can now use the wireless internet connections MCPSstudent,...
By Lauren Price Sonia Shekar Staff Writers

March 22, 2011
Looking at the ceiling recently, students may have noticed new little white boxes with green lights on the ceilings. They're not smoke alarms, but rather one of 50 Cisco Wi-Fi Hotspots that were recently installed as a part of "Tech-Mod," a renewal of CHS's technology in order to meet educational...
Winston Churchill High School

63

Mar 4 / Girls Basketball

Winston Churchill High School

72

Mar 2 / Girls Basketball

Winston Churchill High School

60

Feb 21 / Girls Basketball

Winston Churchill High School

65

Feb 21 / Boys Basketball

Winston Churchill High School

73

Feb 7 / Boys Basketball

Winston Churchill High School

55

Jan 24 / Boys Basketball

Winston Churchill High School

53

Jan 24 / Girls Basketball

Winston Churchill High School

62

Jan 15 / Boys Basketball

Winston Churchill High School

72

Jan 15 / Girls Basketball

Winston Churchill High School

64

Jan 10 / Boys Basketball
The Churchill Observer- May 2018