By Emiliana Cardinale, Production Manager

April 17, 2015
The class of 2017 held a silent auction fundraiser April 16 from 5:30 to 8 p.m and raised over $2500. Throughout the auction, parents and students were able to bid on items and enjoy the entertainment and food. "I think the auction went extremely well," sophomore class president Max Smith said....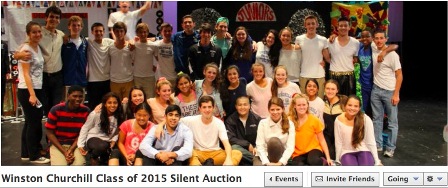 By Julia Heimlich, News Editor

March 13, 2014
The junior class is holding its second annual silent auction March 13 from 5 p.m. until 8 p.m. at the Potomac Community Center. All of the money earned from this event will go toward helping to fundraise events including prom and senior banquet for the class of 2015. "I came up with the idea...
Friday, January 24

Boys Basketball

Winston Churchill High School 55 - Whitman 56

Friday, January 24

Girls Basketball

Winston Churchill High School 53 - Whitman 33

Wednesday, January 15

Boys Basketball

Winston Churchill High School 62 - Whitman 58

Wednesday, January 15

Girls Basketball

Winston Churchill High School 72 - Whitman 29

Friday, January 10

Boys Basketball

Winston Churchill High School 64 - Wootton 50

Tuesday, January 7

Girls Basketball

Winston Churchill High School 65 - WJ 30

Friday, January 3

Boys Basketball

Winston Churchill High School 72 - Einstein 35

Wednesday, December 18

Girls Basketball

Winston Churchill High School 67 - Kennedy 14

Friday, December 13

Boys Basketball

Winston Churchill High School 61 - Springbrook 71

Friday, December 13

Girls Basketball

Winston Churchill High School 74 - Springbrook 12

Tuesday, December 10

Girls Basketball

Winston Churchill High School 59 - Urbana 26

Tuesday, December 10

Boys Basketball

Winston Churchill High School 69 - Urbana 60
The Churchill Observer- May 2018