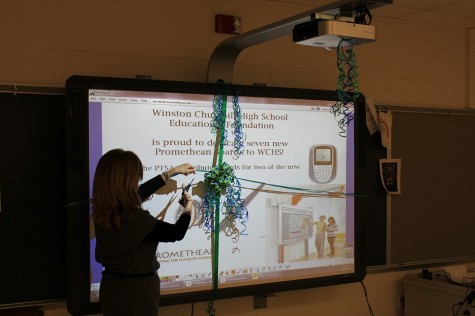 By Elizabeth Campbell, Production Editor

January 29, 2013
Seven new promethean boards were set up in classrooms around the school during the semester exam break. Five of the new boards were purchased by the Educational Foundation with money from fundraisers, and two were bought by the PTSA with money from the Brag Brick fund which had been earmarked for technology. The...
By Jessica Hirsch Online Editor-in-Chief

October 26, 2011
When I was in elementary school, cleaning the blackboards was a rite of passage. Coughing through the cloud of chalk dust was an experience everyone shared; however, as technology changes, students will no longer get to have that experience. Local elementary schools have recently begun ...
Winston Churchill High School

63

Mar 4 / Girls Basketball

Winston Churchill High School

72

Mar 2 / Girls Basketball

Winston Churchill High School

60

Feb 21 / Girls Basketball

Winston Churchill High School

65

Feb 21 / Boys Basketball

Winston Churchill High School

73

Feb 7 / Boys Basketball

Winston Churchill High School

55

Jan 24 / Boys Basketball

Winston Churchill High School

53

Jan 24 / Girls Basketball

Winston Churchill High School

62

Jan 15 / Boys Basketball

Winston Churchill High School

72

Jan 15 / Girls Basketball

Winston Churchill High School

64

Jan 10 / Boys Basketball
The Churchill Observer- May 2018