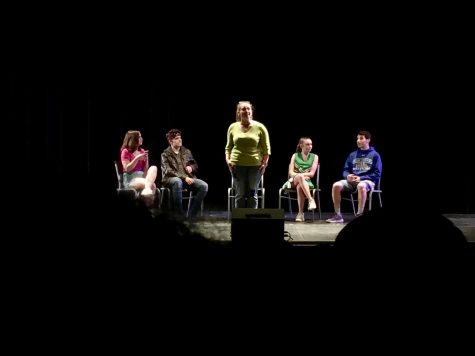 By Jordyn Green, Online Editor-in-Chief

May 14, 2019
A horde of zombies, a crazed director, a pharmaceutical marketing team, and a man with one arm all appear on one stage over the course of two hours. No, this isn't a horror movie, or a mistake: it's WCHS One Act plays. The performances took place on May 1st in the auditorium, and were complet...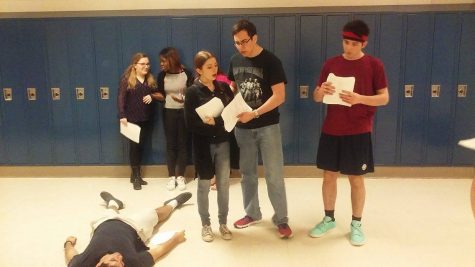 By Becky Wolfson, Online Arts Editor

June 5, 2017
Picture a fantastic theater production complete with detailed costumes, spot-on makeup and beautiful lighting. What would you say if you learned that the entire show was produced and directed completely by students? That's exactly what CHS' "One Acts" student-run play festival is, a night...
Friday, January 24

Boys Basketball

Winston Churchill High School 55 - Whitman 56

Friday, January 24

Girls Basketball

Winston Churchill High School 53 - Whitman 33

Wednesday, January 15

Boys Basketball

Winston Churchill High School 62 - Whitman 58

Wednesday, January 15

Girls Basketball

Winston Churchill High School 72 - Whitman 29

Friday, January 10

Boys Basketball

Winston Churchill High School 64 - Wootton 50

Tuesday, January 7

Girls Basketball

Winston Churchill High School 65 - WJ 30

Friday, January 3

Boys Basketball

Winston Churchill High School 72 - Einstein 35

Wednesday, December 18

Girls Basketball

Winston Churchill High School 67 - Kennedy 14

Friday, December 13

Boys Basketball

Winston Churchill High School 61 - Springbrook 71

Friday, December 13

Girls Basketball

Winston Churchill High School 74 - Springbrook 12

Tuesday, December 10

Girls Basketball

Winston Churchill High School 59 - Urbana 26

Tuesday, December 10

Boys Basketball

Winston Churchill High School 69 - Urbana 60
The Churchill Observer- May 2018