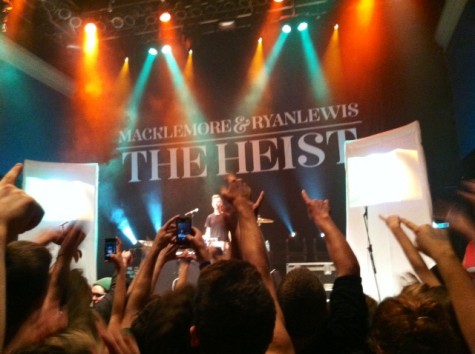 By Matthew Reback, Staff Writer

November 29, 2012
Macklemore and Ryan Lewis have continued to shock the music world. Not only are they unsigned, but they also record, mix, edit and ship all of their albums from one 500 square foot room. Since Macklemore's 2005 Language of My Mind, the duo has taken a pure do-it-yourself approach to gradually build up a siza...
By Maddie Bernstein, staff writer

October 28, 2009
Congratulations to Julianna Hsing for being selected as the concertmaster of the Chamber Orchestra at the Maryland Classic Youth Orchestra (MCYO). She performed with Jonathan Carney, Concertmaster of Baltimore Symphony Orchestra, at the Concertmaster Class on Oct. 1. Hsing and Carney will be performing...
Tuesday, December 10

Girls Basketball

Winston Churchill High School 59 - Urbana 26

Tuesday, December 10

Boys Basketball

Winston Churchill High School 69 - Urbana 60

Friday, December 6

Boys Basketball

Winston Churchill High School 61 - Paint Branch 63

Friday, December 6

Girls Basketball

Winston Churchill High School 66 - Paint Branch 64

Wednesday, November 13

Girls Varsity Volleyball

Winston Churchill High School 1 - Arundel 3

Saturday, November 2

Girls Varsity Soccer

Winston Churchill High School 2 - Quince Orchard 1

Friday, October 25

Varsity Girls Volleyballl

Winston Churchill High School 3 - BHS 1

Friday, October 25

Varsity Boys Football

Winston Churchill High School 8 - BCC 14

Thursday, October 17

Varsity Boys Soccer

Winston Churchill High School 3 - Poolesville 1

Thursday, October 17

Varsity Girls Soccer

Winston Churchill High School 5 - Poolesville 0

Tuesday, October 15

Varsity Girls Field Hockey

Winston Churchill High School 6 - Wheaton 0

Monday, October 14

Varsity Girls Soccer

Winston Churchill High School 7 - Rockville 0
The Churchill Observer- May 2018