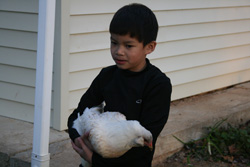 By Spenser Easterbrook and Matt Rabb

December 21, 2012
Students walking into school at sunrise need not worry. No, you are not going crazy. You did just hear a rooster crow. Look no farther than the Pham residence, a home on Gainsborough Road across from CHS with four egg-producing hens and a rooster. An unusual sight in the middle of Potomac, the chickens joined D...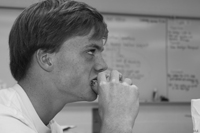 By Joe Nolan, Opinions Editor

October 1, 2012
When the "news" came out that Chick-fil-A supported the traditional definition of marriage, dissenting CHS students biting into the restaurant chain's iconic chicken sandwich found themselves in a dilemma difficult to digest: should they continue to patroniza a business that holds atypical views? ...
Winston Churchill High School

63

Mar 4 / Girls Basketball

Winston Churchill High School

72

Mar 2 / Girls Basketball

Winston Churchill High School

60

Feb 21 / Girls Basketball

Winston Churchill High School

65

Feb 21 / Boys Basketball

Winston Churchill High School

73

Feb 7 / Boys Basketball

Winston Churchill High School

55

Jan 24 / Boys Basketball

Winston Churchill High School

53

Jan 24 / Girls Basketball

Winston Churchill High School

62

Jan 15 / Boys Basketball

Winston Churchill High School

72

Jan 15 / Girls Basketball

Winston Churchill High School

64

Jan 10 / Boys Basketball
The Churchill Observer- May 2018