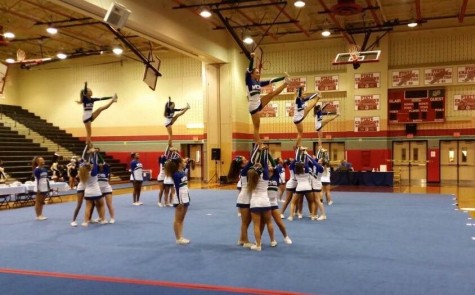 By Cristian Edwards, Online Sports Editor

November 24, 2015
Jousting. Quidditch. Cheese rolling. Rock-Paper-Scissors. All of these activities are now defined as and accepted as genuine sports. So why is cheerleading still on the bubble? The dictionary defines a sport as, "an athletic activity requiring skill or physical prowess and often of a competitive...
By By Charles Cook, Staff Writer

November 30, 2010
Just to clarify readers, no I am not the "official" Observer columnist, though many characterize me with traits pertaining to those of a young Ben Gloger. Well this month, my "informal" column addresses an issue that has just come to my attention: according to a legal judge ruling in a court ...
Tuesday, October 1

Varsity Girls Volleyball

Winston Churchill High School 3 - RM 0

Friday, September 27

Varisty Boys Football

Winston Churchill High School 0 - QO 64

Wednesday, September 25

Varsity Girls Soccer

Winston Churchill High School 11 - Einstein High School 2

Monday, September 23

Varsity Girls Field Hockey

Winston Churchill High School 6 - RM 0

Thursday, September 19

Varsity Girls Volleyball

Winston Churchill High School 3 - BCC 0

Monday, September 16

Varsity Girls Soccer

Winston Churchill High School 4 - BHS 1

Tuesday, September 10

Varsity Boys Soccer

Winston Churchill High School 4 - GC 2

Friday, September 6

Varsity Boys Soccer

Winston Churchill High School 1 - UHS 2

Wednesday, May 15

Varsity Lacrosse

Winston Churchill High School 6 - Richard Montgomery High School 5

Monday, May 13

Varsity Lacrosse

Winston Churchill High School 16 - BCC 3
The Churchill Observer- May 2018