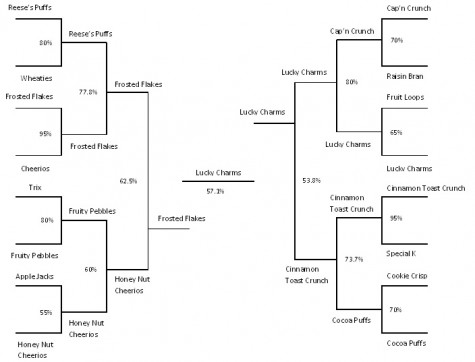 By Danny Gordon and Noah Salzberg, Staff Writer and Public Relations Editor

April 30, 2013
Breakfast is the most important meal of the day, and according to a poll conducted by Good Morning America, cereal is the most commonly consumed item for breakfast in the United States. Curiosity led us to wonder: what is the favorite cereal among CHS students? We conducted a survey of 20 random student...
By Stacy Stein Public Relations

May 6, 2010
"They're more than good. They're great!" Practically everyone can recognize this slogan of Kellogg's Frosted Flakes. Now this phrase can be used to describe the new restaurant in Washington D.C., The Cereal Bowl. The Cereal Bowl opened March 27 in Cleveland Park and offers an array of c...
Wednesday, March 4

Girls Basketball

Winston Churchill High School 63 - BCC 43

Monday, March 2

Girls Basketball

Winston Churchill High School 72 - WJ 32

Friday, February 21

Girls Basketball

Winston Churchill High School 60 - Damascus 10

Friday, February 21

Boys Basketball

Winston Churchill High School 65 - Damascus 70

Friday, February 7

Boys Basketball

Winston Churchill High School 73 - Northwest 59

Friday, January 24

Boys Basketball

Winston Churchill High School 55 - Whitman 56

Friday, January 24

Girls Basketball

Winston Churchill High School 53 - Whitman 33

Wednesday, January 15

Boys Basketball

Winston Churchill High School 62 - Whitman 58

Wednesday, January 15

Girls Basketball

Winston Churchill High School 72 - Whitman 29

Friday, January 10

Boys Basketball

Winston Churchill High School 64 - Wootton 50

Tuesday, January 7

Girls Basketball

Winston Churchill High School 65 - WJ 30

Friday, January 3

Boys Basketball

Winston Churchill High School 72 - Einstein 35
The Churchill Observer- May 2018