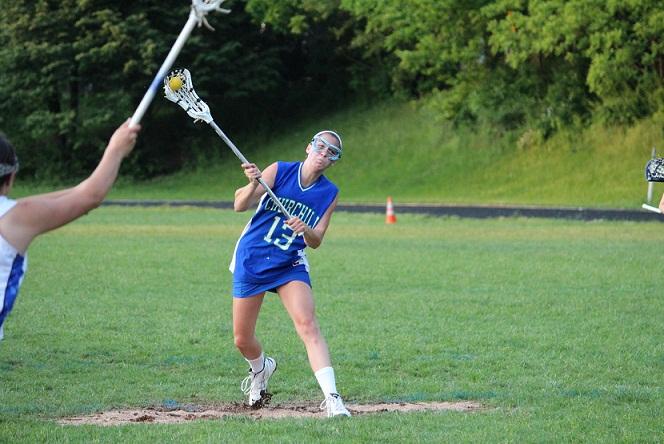 The girls lacrosse team won its third consecutive regional championship against Sherwood 20-19 May 19 and is headed to the state semifinals. 
"Our offense was settled and organized which helped us score a lot, and we didn't force the ball into the goal," junior Emily Muscarella said. 
The team was down by two goals at the end of the first half. Senior captain Mairin Hall was being triple-teamed by Sherwood and was having a tough time getting to goal. Juniors Bailey Boyland and Muscarella stepped up their game to help carry the team to victory. 
Prior to this, the team won its second playoff game against Blair 21-16 May 14.
 "By the end of the first half we really starting picking up the momentum and from there on out they didn't really have a chance," sophomore Carly Shapiro said.
 The team had a rough start but pulled away in the second half with help from senior captains Madelyn Flax and Hall, who scored 7 and 6 goals respectively. Senior goalie Alex Fox had some great saves, which helped maintain the lead and keep up the team's energy.
 Previously, the Bulldogs won their first playoff game against team rival Wootton May 11 with a 10-9 victory.
 It was a back and forth game until the Bulldogs finally put it away with a goal from Flax on a free position with one minute and 36 seconds remaining in the game.
 The team finished off the regular season with a tough loss to Quince Orchard 12-10 May 4.
 The team started out slow and struggled to pick up the momentum as the game went on.
 "One of our best players Mairin Hall was out sick and we were missing some other players due to the stomach bug," Shapiro said. "I think we psyched ourselves out because we knew some of our starters were missing."
 Despite the loss, the Bulldogs crushed Springbrook 21-3 on their senior night, May 2.
 All the seniors started out the game with high energy. The team performed well considering Fox had to leave parts of the game to perform in the chorus concert. Sophomore goalie Leah Pitman subbed in for Fox for parts of the game.
 "We had a JV goalie come in and she did a good job," Hall said. "Our defense played well and didn't let them get a lot of shots off. We had a lot of different people score and make assists."
 The Bulldogs play Westminster May 19 in the state semifinals.
 "The girls really want it, especially the seniors," coach Gjeldum said.
 UPDATE: The girls lacrosse team lost to Westminster in the state semifninals May 19, with a final score of 18-8.