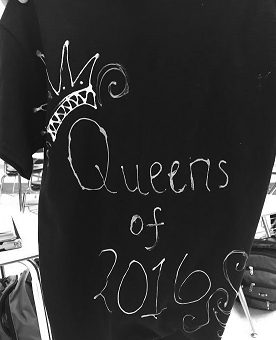 Photo By Madison Hurr
As the Class of 2015 is getting ready to graduate, the Class of 2016 is preparing to fill their place as the top dogs of high school: the seniors.
Most seniors can say that these past four years of high school flew by. The Observer asks this year's seniors for words of wisdom for the incoming seniors. After all, wisdom comes with seniority.
"I'd say to take things in stride," senior Annie Fang said. "Life happens – there are going to be moments that you love about senior year and moments that you absolutely hate. But at the end of the day, it's real time that's ticking. The year inevitably ends, and as bittersweet as that is, it's way more fun to be able to say you really enjoyed the time you did get."
We all know that with college applications and busy schedules, senior year can initially be overwhelming, but looking back, seniors agree that it is the memories made in high school that matter most.
"I would have to say to the upcoming seniors they should think that every day is a gift and they should appreciate the day and the people who they are going to spend it with," senior Paulina Bravo said. "I would also say that they should embrace change because it will happen even if they don't want it to. Create experiences that you wouldn't want to regret because senior year only happens once."
Senior Danny Espinoza agrees.
"I'd advise the upcoming seniors in the Class of 2016 to be nice to everyone, make new friends and just cherish the moments with them," Espinoza said.
Looking back, senior Billy Wang advises the upcoming seniors to cherish their friendships and focus on creating the best high school experience possible.
"Value your time in high school," Wang said. "It's a first time for many things. Spending time with your friends and crafting great memories is what high school is all about. Many years after you've left CHS, what you'll be left with are the relationships you've created and the amazing stories you have yet to tell. Don't be afraid to try new things – step outside your comfort zone once in a while; take some risks, but be smart. Catch life by its throat and just live in the moment. Most importantly, have fun."
Senior Yasmine Kehnemouyi also advises the Class of 2016 to value their last year together, but also to be excited to move onto the next chapter of their lives.
"I would tell the incoming seniors to make the best out of all of the exciting senior events and to really look back on all of the amazing moments they've had in school these past few years," Kehnemouyi said. "And of course, to be excited to start a new chapter in college."
For those juniors who are deterred by the stress that comes with the beginning of senior year, senior Malcolm Udeozor advises them to maintain focus, and all will be well.
"These tedious years can feel never-ending," Udeozor said. "However, with a some determination and hard work, they will seem like a piece of cake."
Senior year can be daunting, memorable and bittersweet, as friends go their separate ways and head off to college.
"It's your very last year to make connections with some really cool people you probably won't see in a while, so use it to the fullest," Fang said. "Reach out, take risks, make connections and keep an open mind. You're going to realize there are a lot of people you haven't even met. So meet them! You'll find that the more friends you make now, the less alone you'll feel when you leave. Best of luck!