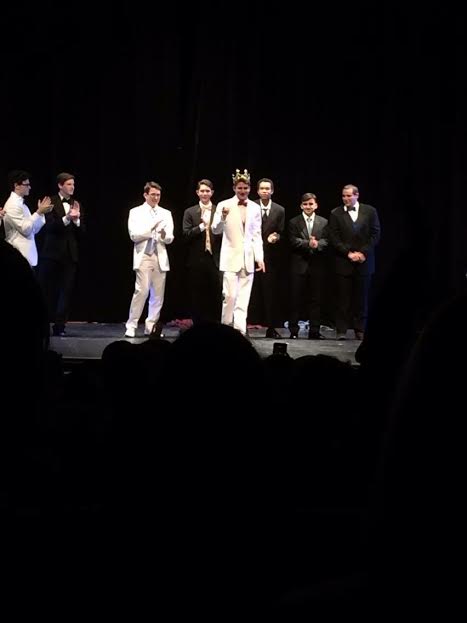 Photo By Peter Durand
CHS hosted its annual "Mr. Churchill" performance on April 14, an event where several junior and senior boys go on stage to perform a talent and amuse the audience with a question and answer session, among other activities.
Contestants included juniors Niko Papageorge, Thomas Atkinson, Ryan Hughes and Viny Correa and seniors Adam Newburger, Griffin Godsick, Elliott Sloate, Jake Certner and Mark Weinstein.
After each candidate was introduced, Newburger started the night off by beatboxing, which escalated to impressive remixes of popular songs.
Papageorge followed with a rendition of "A Thousand Miles" by Vanessa Carlton with backup dancers wearing wigs. Junior Jacob Glassman played the piano in the background along with a small band featuring a bassist, a guitarist, and a drummer.
Godsick also sang, using senior Enoch Lee to perform a song from "Beauty and the Beast." With Enoch as Belle, Godsick played Gaston in a humorous performance, but the quality of Godsick's voice was still quite clear.
Next up was Sloate performing standup comedy. His material ranged from covering weird strangers at a Capitals games to things he loves to hate, keeping the crowd laughing quite steadily.
Atkinson performed a dance to various songs, including "Every Time We Touch," "Talk Dirty to Me," "Low," "Fergalicious" and "Sorry."
"Being in Mr. Churchill was a really fun experience because it allowed me to make new friends and was a great opportunity to perform in front of my peers with more of my close friends," Atkinson said.
Ryan Hughes had fellow junior David Levy act as Pedro from "Napoleon Dynamite," and then followed up by doing the trademark dance with impressive accuracy.
"I've always been a big fan of Napoleon Dynamite," Hughes said. "Once I had David (Levy) as Pedro, it was just too good of an opportunity to pass up."
Certner followed Hughes' act with an extremely impressive rap about life at CHS. His material ranged from whether or not carrying binders and pencil cases is socially acceptable, classes that need to be taken seriously (Economics) and classes that CHS students often sleep through (Honors Modern World), as well as the differing levels of success that certain athletic teams enjoyed this past year. However, most importantly he called out administration on some widely criticized policies including juniors parking on Gainsborough and their overreaction to the Powderpuff routine.
Correa sang a country song to junior Kirsten Farrell, which the whole auditorium got into by clapping along.
Contrary to the popular belief that Mark Weinstein was going to have Kevin Wang come up and teach him physics, Weinstein instead chose to round off the show with an imitation of the Colbert report. Although he briefly mentioned his three state championships with CHS hockey and poked fun at principal Dr. Benz's age, he spent most of the time teasing Sam Beloff who was dressed up as Jerry the security guard.
Certner deservedly won the title of Mr. Churchill, with many believing he should have won it last year too. Aside from Certner's performance being one of the more entertaining of the bunch, Certner utilized the "Mr. Churchill" competition as an excellent platform to call out some of the misguided policies that administration has implemented this year.
"Doing the show is its own reward, everyone was hilarious," Certner said. "But it definitely feels good to win."