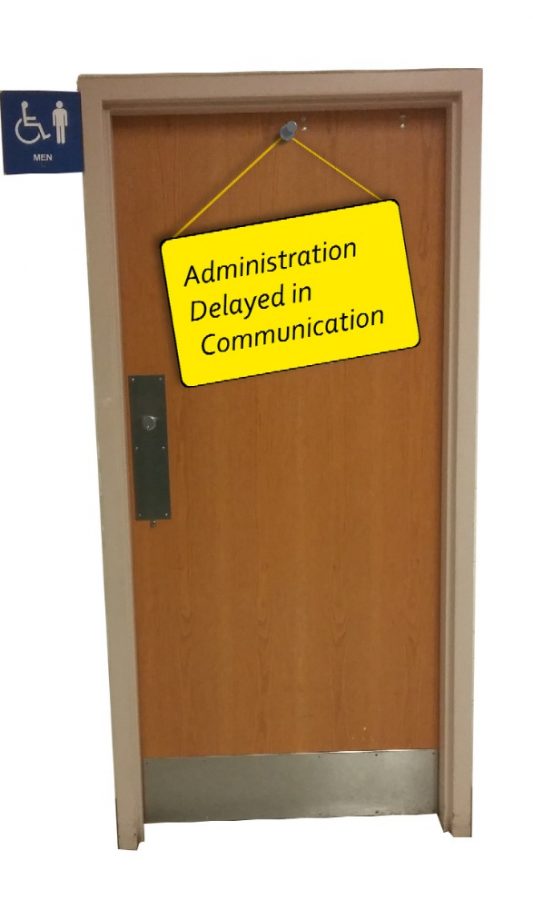 On Nov. 10, a sign was found in a CHS boys bathroom that read "Whites Only." This goes along with the recent trend of offensive signs and writings in schools since November.
This incident was first reported by the Washington Post on, and was not publically announced to parents and students by CHS administration until Dec. 15. Other schools around the county immediately notified parents about similar incidents through a letter from the principal, after similar events occurred.
According to Principal Joan Benz, the school wanted to keep the incident internal and limit the information to specific administrative staff members.
Similar racist incidents have been occurring in schools, churches and other public places around the country.
"There are already extremely closed-minded and intolerant people, but now having someone like Donald Trump as our president-elect just adds fuel to the fire," senior Lydia Bradley said.
This type of incident alone has occurred at MCPS schools seven times since President-elect Donald Trump was elected, twice at Quince Orchard HS (QOHS), once at Burning Tree ES (BTES), twice at Westland MS (WMS), once at Sligo Creek ES (SCES), and once at CHS. It is not clear if all of these crimes were committed by students at that particular school.
According to an Observer poll of sophomores at CHS, about 45 percent of students polled had heard of this vandalism through friends. This news was also circulating in CHS class of 2020, 2018 and 2017 Facebook groups.
This troubling trend of hate crimes throughout the county has ranged from swastikas to a "Whites Only" sign to a racial slur directed toward African American students at SCES.
"This was bigger than just one incident," junior Hana Mangat said. "The vast majority of students are affected by this."
Several other schools in MCPS sent out a letter to parents soon after similar incidents occurred in their schools. However, at CHS, students were made aware of this incident through other media outlets as well as teachers and peers.
According to a Nov. 30 Washington Post article, QOHS, SCES and WMS all sent letters to parents soon after the incident occurred.
"I think administration wanted to fully investigate what happened before sending a letter to parents," sophomore Ben Eisler said. "[They] should have said something to the parents though."
No charges have been filed against the two male students who put the sign in the bathroom, but internal disciplinary actions have been taken. Some students who were disappointed that CHS did not send a letter out initially, went to administration to talk about the incident.
"Administration was under the impression that it was an isolated incident that didn't really concern the rest of the school," Mangat said. "All of the student representatives involved and I just wanted administration to recognize that students really are affected by this."
A Dec. 14 Washington Post article described alleged racial tensions at CHS. This article detailed the bathroom sign incident, an incident involving the Republican club, and a separate isolated incident where students surrounded an African American student and shouted "Black Lives Don't Matter." The latter incident was reported by a parent, telling school officials that her daughter was surrounded by a group of students and yelling this derogatory phrase at her.
According to the same article, an anonymous CHS staffer said that some staff members are pressing for the school to be more open about incidents and to create a plan for addressing them.
On Dec. 15, Benz sent out a letter to parents and students addressing what the school will do to improve unity after the various incidents were reported by The Washington Post.
According to the email sent out, discrimination is not and never tolerated at CHS and Sources of Strength activities and Cultural Proficiency Training will take place for both students and staff.
Some are disappointed with how these incidents will change the perception of CHS.
"More than embarrassing, the incident is disappointing because the recent bathroom incident might have been a joke, but the kids were extremely insensitive and inconsiderate to everyone," senior Thara Konduri said.