CHS Spanish Teacher Recognized Under Stanford's Teacher Tribute Initiative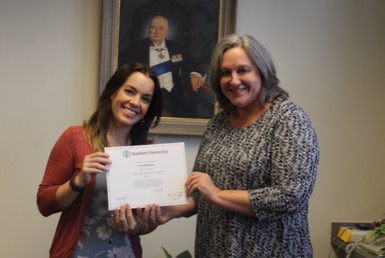 Hang on for a minute...we're trying to find some more stories you might like.
Stanford University recently recognized Spanish teacher Kristin Beheler for exceptional teaching as part of their Teacher Tribute initiative.
Beheler was nominated by CHS Alumnus Bradley Lawrence because of how much he learned in her class. According to Lawrence, all incoming Stanford freshmen and transfers were able to nominate a teacher for the teacher tribute initiative.
"She always has so many notes and documents and material that she has to create on her own and it's always comprehensive," Lawrence said. "Class is always well planned down to the minute."
According to World Languages Resource teacher Lois Laclef, teaching world languages is wonderful because the teacher is able to introduce their students to a new culture.
"It is significant that Ms. Beheler received the award from Stanford because she is dedicated to helping her students learn to speak Spanish and understand Hispanic cultures," Laclef said.  "She travels to Spain and South American countries when she is not teaching and brings back new understandings of the people and cultures that she encounters.  I am very proud of the work that Ms. Beheler does as a Spanish teacher at CHS and that she received the award from Stanford University acknowledging the influence that she has had on students' lives."
While Beheler makes a difference in her students' lives, they also make a difference in hers.
"It's surprising and incredibly rewarding," Beheler said.  "I'd like to thank my students for inspiring me every day and for pushing me to be the best that I can be.  I'd like to encourage all students to find whatever it is in life that brings them joy and pursue that passionately.  It's not about finding the highest paying job, it's about finding a job that fills your spirit and gives you purpose on a daily basis."