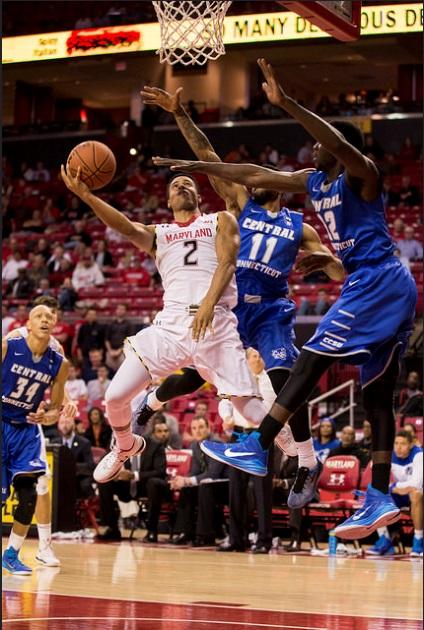 Photo Courtesy of Flickr
The University of Maryland men's basketball team has gotten off to a sizzling 8-1 start this season, and has returned to the AP Top 25 College Basketball poll for the first time since the end of the 2009-2010 season.
Maryland currently ranks as the 19th-best team in the country, hauling in wins over tough opponents such as Arizona State and 14th-ranked Iowa State on its road to winning the CBE Hall of Fame Classic tournament.
"They have gotten off to a better start this year simply because this year's team is better than previous years," junior Johnathan Wilson said. "They seem to be smarter players on the court, they listen to their coach more, and they have a very deep bench."
Key to its success this season has been freshman sensation point guard Melo Trimble, who is averaging 16.4 points per game, along with 2.9 assists.   He has also added a deep threat to the Maryland offense with his consistent ability to shoot from long-range.  His speed along with his shooting ability has been wreaking havoc for opposing defenses so far this season.
Even without senior guard Dez Wells, who was a key player for Maryland last year, the team has started well, and will look to gain an extra head of steam when he returns from his fractured wrist.   Wells was averaging 16.5 points per game, leading the team in scoring before he suffered his injury, and was adding 4.8 rebounds per game as well.
According to Wilson, even though they have gotten great production from their guards so far this year, they will need a big man to step up.
With the loss of seven-foot-one center Alex Len, who was drafted by the Phoenix Suns in the first round of the NBA draft last year, the team will definitely need a big man to step up in place of him.   Si- foot-11 sophomore forward Damonte Dodd looks to fill in that space, currently averaging 4.8 points per game, and five rebounds per game as he transitions to a starter this season.
Head coach Mark Turgeon, in his fourth-year at the helm of Maryland basketball, will look to lead Maryland to success in the Big 10 as well as an appearance in the NCAA tournament, something Turgeon has not been able to do in his first three years.
The depth and the talent of this young yet experienced Maryland team should propel them into a lot of success this season, and could take them into a very deep run into the NCAA tournament.