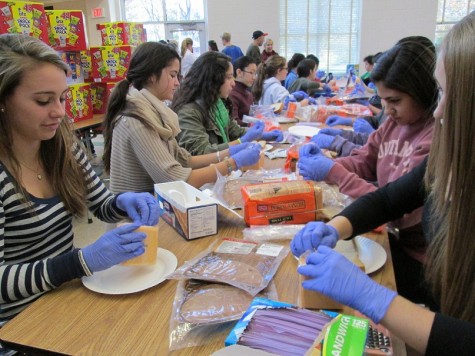 By Emilie Plesset, Online Editor-In-Chief

December 3, 2012
Students gathered in the cafeteria Nov. 16 to give back to the community on the CHS Day of Community Service. Students and faculty met after school to make sandwiches that were donated to Martha's Table, a local non-profit organization that helps at-risk and less fortunate individuals and familie...
By Danny Weiss Online Sports Editor and Danny Weiss Online Sports Editor

April 13, 2011
Sophomore Olivia Stanhope has been recognized with the Congressional Award for excellence in community service. This congressional program is open to applicants aged 14-23 and each participant has the opportunity to earn different certificates and medals depending on how many hours of service they...
Friday, October 25

Varsity Girls Volleyballl

Winston Churchill High School 3 - BHS 1

Friday, October 25

Varsity Boys Football

Winston Churchill High School 8 - BCC 14

Thursday, October 17

Varsity Boys Soccer

Winston Churchill High School 3 - Poolesville 1

Thursday, October 17

Varsity Girls Soccer

Winston Churchill High School 5 - Poolesville 0

Tuesday, October 15

Varsity Girls Field Hockey

Winston Churchill High School 6 - Wheaton 0

Monday, October 14

Varsity Girls Soccer

Winston Churchill High School 7 - Rockville 0

Thursday, October 10

Varsity Boys Soccer

Winston Churchill High School 0 - Whitman 7

Thursday, October 10

Varsity Girls Volleyball

Winston Churchill High School 0 - Wootton 3

Monday, October 7

Varsity Girls Volleyball

Winston Churchill High School 3 - Whitman 0

Tuesday, October 1

Varsity Girls Volleyball

Winston Churchill High School 3 - RM 0

Friday, September 27

Varisty Boys Football

Winston Churchill High School 0 - QO 64

Wednesday, September 25

Varsity Girls Soccer

Winston Churchill High School 11 - Einstein High School 2
The Churchill Observer- May 2018