Social media becomes a battleground for political views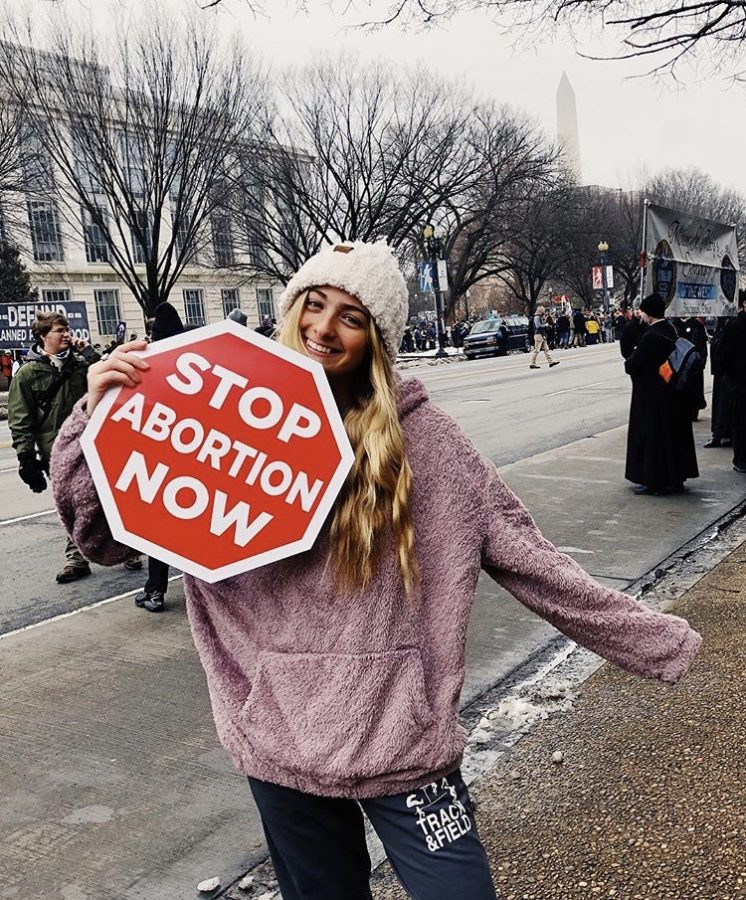 WCHS students have the privilege of being close to Washington D.C., allowing them to attend many political marches. These marches can make for some pretty cool Instagram photo-ops with posters in hand. But this Montgomery County student's recent post at a local pro-life march just went viral.
Holy Cross senior Ashley Foley posted an Instagram picture captioned "save the babies" at a January pro-life march in D.C., holding a sign that read "Stop abortion now." The post immediately started trending and has gotten over 2,500 comments, many from WCHS students voicing their own opinions on the topic.
"I was not expecting to get so many comments," Foley said. "I had been to this march before in past years and had never gotten any backlash from the pictures."
However, the post left many students voicing their opinions on not only abortion rights, but women's rights as well.
"I chose to comment on the post because women need to stand up for other women," WCHS student Sara* said. "I get being personally against abortion, but I do not understand wanting to take other people's individual choices away."
Hundreds of students commented in agreement with these ideals, using arguments nearly identical to this.
"You might wonder what my comment on a high schooler's post from a pro-life march is really going to change," WCHS student Bella* said. "But this is where change starts. If I do not do anything, who will?"
In response to the rebuttals to her post, Foley made a YouTube video advocating for pro-life, and continued to post pictures on her Instagram story defending her views.
"I am praying that people are able to open up to the acceptance of pro-life opinions," Foley said. "Most of the hate was from those who were uneducated on the topic."
In her YouTube video, Foley further states her views as well as provides statistics on the topic and addresses questions that have been sent to her through Direct Messages and text messages.
"Just because I do not agree with the pro-life movement does not mean that I am uneducated," Bella* said. "I respect everyone's right to have and express their own opinion, just as I should be able to advocate for and express mine."
But while students are divided over their beliefs on abortion rights, they can find common ground on one thing: it's important for students to speak up about their political views.
"We are lucky to live in a country with the right to free speech," Foley said. "When students speak up about their own personal views, it can help educate those who may not have a pre-existing opinion."
*Students wished to remain anonymous
About the Contributor
Anna Kronthal, Opinions Editor
Anna Kronthal is a class of 2020 senior at WCHS and one of The Churchill Observer's Opinion Editors. Outside of school, Anna dances at The Washington...