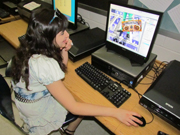 One of the most common complaints from teenagers is their lack of a voice. Many teens cannot vote, have little sway in national affairs, and believe that the opinions they attempt to share are downplayed by those who believe that they know better.
Teens have had enough. Thanks to popular blogging websites, such as Blogger, Tumblr and WordPress, which give students an easy and accessible outlet to voice their opinions, more and more teens are starting their own personal online blogs.
There are many reasons for students to blog. Senior Samara Green, who posts to huffingtonpost.com/samaragreen, enjoys the control that she has over the content posted on her blog.
"I like having the freedom to write whatever I want and have it be either formal or informal," Green said. "You can write about anything from major world issues to your favorite television show."
According to Green, many people who read her blog have given her feedback on her posts.
"On The Huffington Post website, other users can write comments on the posts that I've written," Green said. "I've gotten some comments where people agree with me and like what I've written, and also people that disagree and want to give their own opinions."
Blogs not only showcase what a teen currently believes in, but also how his or her way of thinking has changed over time.
Junior Olivia Lee, who runs the Tumblr page carelesswonderland.tumblr.com, believes that her blog reflects how she has evolved during high school.
"You can tell how I have changed through my blog," Lee said. "It's a really good representation of my mindset."
No two blogs are the same, and the unique features on sites like Tumblr are what attract some to begin blogging. Junior Sofia Roman uses her Tumblr page to display drawings that she has made over the past year.
"Since I'm such a disorganized person it's good for me to have a place where I can keep all my drawings in case I want to show them to people," Roman said. "I once lost a sketchbook and even though I may have lost the physical drawings, I still have the scanned versions on the blog."
For some, it can be intimidating to know that anyone who has an Internet connection can read their blog.
According to Lee, those who are thinking of starting a blog should "jump into it head first" and "never take baby steps." Instead of being nervous about what others may think, teens need to think of a blog as something "for you and you only, and no one else."
Green also advises new bloggers to never shy away from controversial or unpopular topics.
According to Green, some of her most popular posts have been about topics such as gender stereotypes and the lack of global citizenship in schools.
"You have to write about what you believe in even if it may not be popular," Green said. "The more controversial a view, the bigger a reaction you will get."
Blogs have become the new teenage diary, but unlike personal notebooks, blogs are something that anyone with Internet access can view. Whether these blogs are personal and inspirational or political and worldly, it is clear that they will inspire a new generation of thinkers, dreamers, artists and writers.